Our lovely volunteer Christine has been supporting our Dementia Meeting Centre in Clevedon. Here is a little bit about what volunteering with Alive is like for her.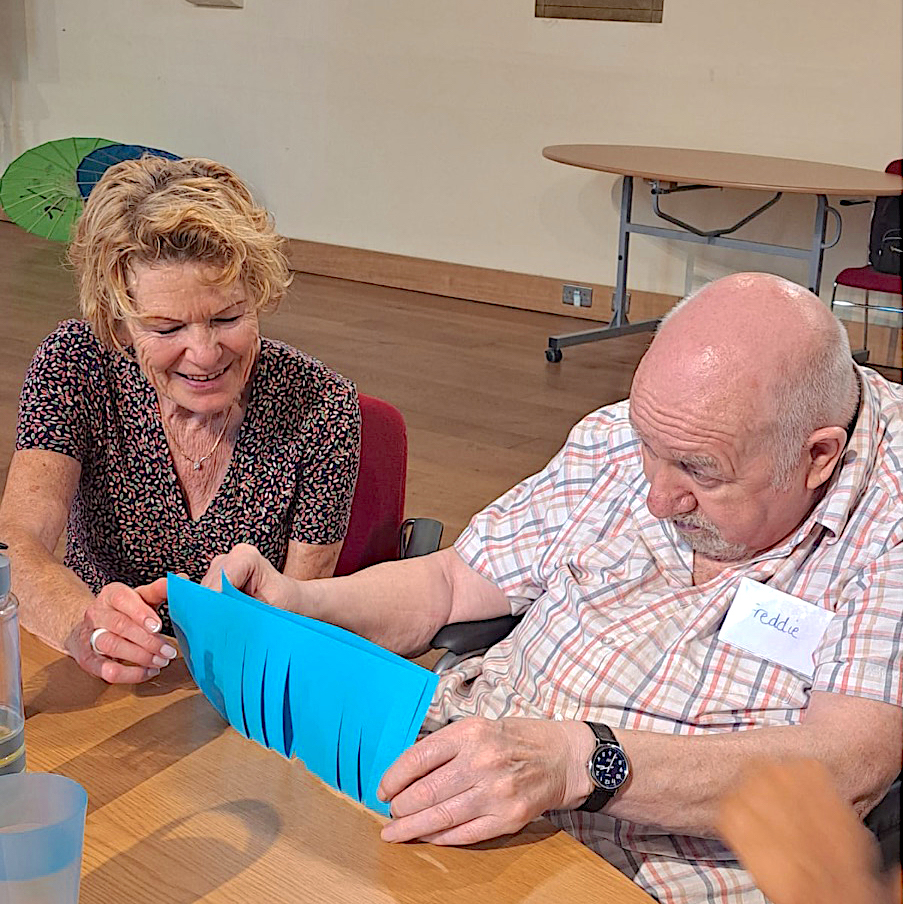 What were your reasons for wanting to volunteer with Alive? What do you like about it?
Christine: I am retired now and wanted to give some of my time to organisations that help others. I chose to volunteer with Alive because my two sisters-in-law, who live in France, have dementia.
Volunteering gives me the opportunity to meet other people and to improve someone else's wellbeing. The Meeting Centre staff are very good at their job, always there when someone is in difficulty, kind and helpful. The activities are person-centred and varied and keep the brain and the body working.
Is there a favourite memory or story you would like to share?
Christine: After volunteering at Clevedon Dementia Meeting Centre for a few weeks, I discovered that there was another centre in Nailsea looking for volunteers, so I mentioned that perhaps I will go to there. But the Clevedon group said this would be such a shame, as they all really like me. It made me feel so happy that they enjoyed my company and what I was doing with them, and that I was not taken for granted.
To see their smile and feeling so welcomed by them makes my day worthwhile.
Has volunteering with Alive had any impact on your life?
Christine: It has opened my eyes to the realities of living with dementia, and it has brought me joy to have done something to help.
Have you learned anything from volunteering with Alive?
Christine: I have learnt about what kind of activities the group enjoys, what kind of activities are good for improving wellbeing and stimulating memory, and what resources are available for people living with dementia and their families.
Did you have any reservations or challenges to overcome before you started volunteering with Alive?
Christine: Not really, apart from perhaps fearing I'd be only helping with washing up etc and not being able to communicate with participants (because English isn't my first language), but neither is the case.
Is there any advice you would give to others that are thinking about volunteering with Alive?
Christine: DO IT, it will bring you happiness and the feeling to have helped others to have a better life. Plus, Alive is a very good organisation you can trust.


Are you interested in joining Christine as a volunteer with Alive? Please email our Volunteer Coordinator at volunteer@aliveactivities.org or give us a call at 0117 377 4756 for more info and to apply.