Alive has been running social and therapeutic horticulture (STH) sessions in care homes and community gardens across Bristol for over a decade.
Mixing gardening and green craft activities, and with a strong focus on the social aspect, we've witnessed first-hand the profound difference STH can have on participants at our sessions.
All our sessions are dementia-friendly, with many tailored specifically for people living with dementia and older people.
Read on for an overview of all our gardening opportunities, and please contact us using the info at the foot of this page if you have further questions.

Attending a community gardening session
Alive run three community gardening groups across Bristol. These include one at our bespoke, custom-designed dementia-friendly allotment; an inclusive green social prescribing session in the centre of the city at The Wellspring Settlement and an open session for the community of Lawrence Weston based in the grounds of Blaise Weston Court, an extra care housing residency.
Read on for more information about these.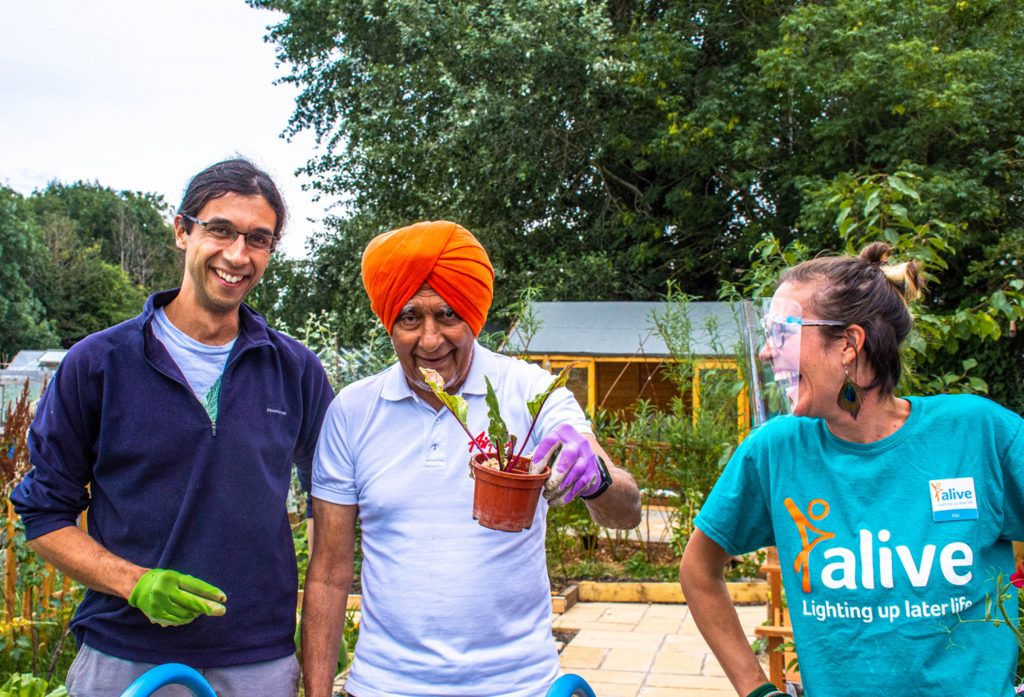 Alive has a dementia-friendly allotment at Charlton Road Allotments in Brentry. We run therapeutic horticulture sessions there all year round for older people and people in the community living with dementia, as well as an intergenerational session for kids and older people.

The Wellspring Settlement community garden sessions are open to anyone living in Barton Hill and the surrounding area. They are suitable for adults of any age, ability and background.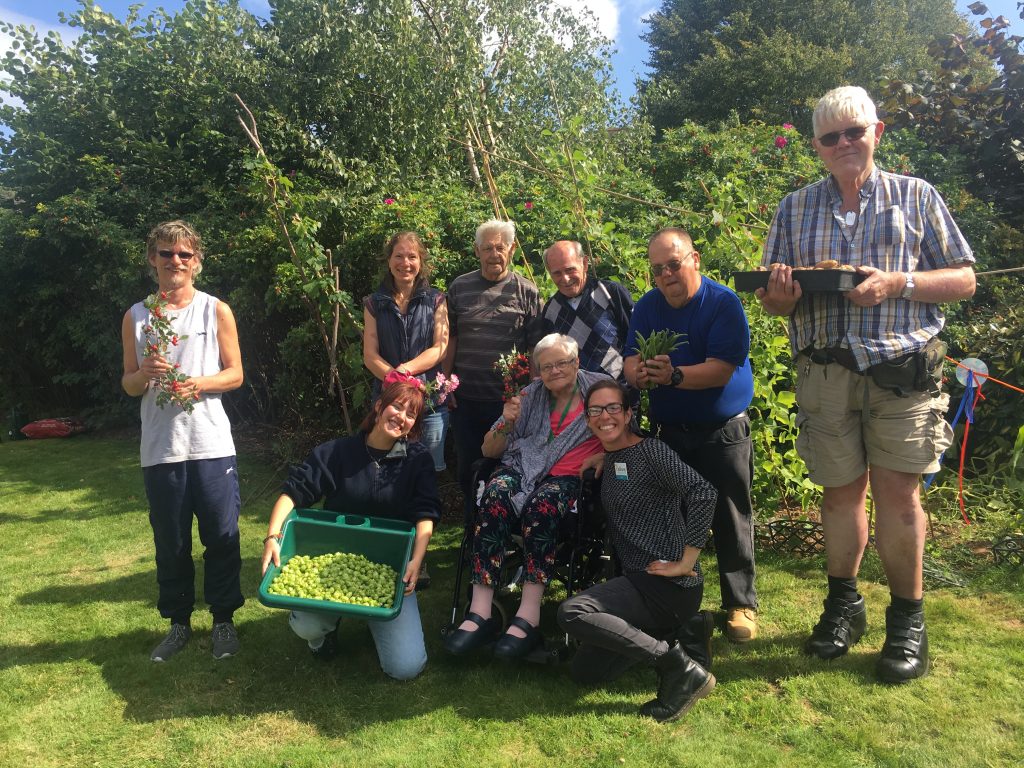 Our Lawrence Weston community gardening sessions are open to anyone living in the Lawrence Weston area. They are suitable for adults of any age and ability, but as they are based at Blaise Weston Court, the group will predominantly consist of older people.
Holiday Hunger Intergenerational Sessions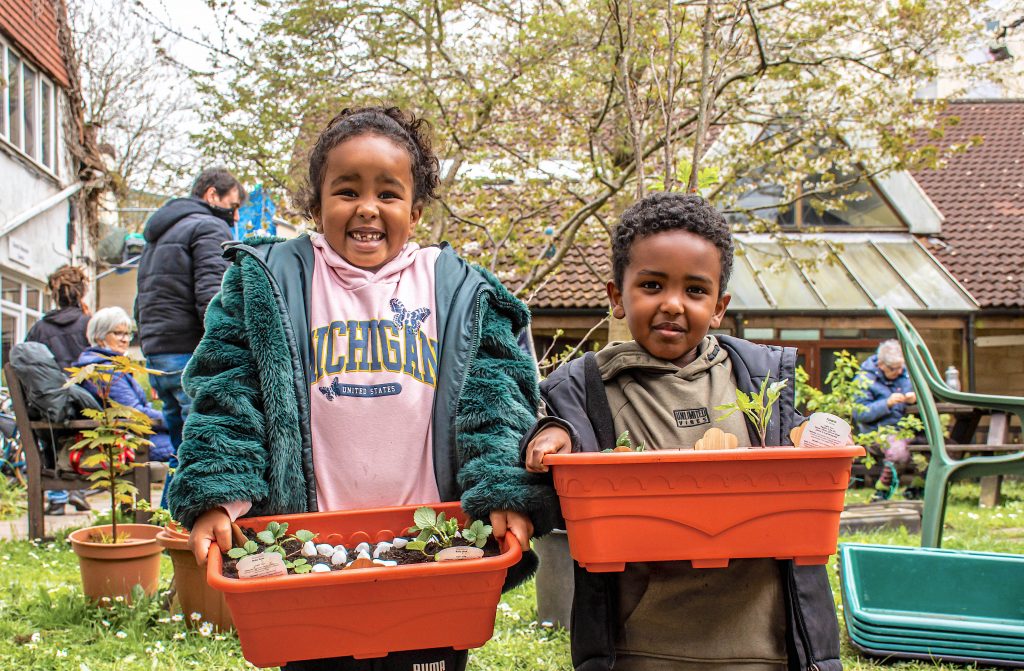 As the cost of living crisis spirals out of control, more and more children are at risk of going hungry over the school holidays.
To help combat this, Alive is running five sessions combining gardening and a free meal this summer.
Holiday hunger sessions at our Lawrence Weston Community Garden will be running on Wednesday 27th July and Weds 10th August, from 1.30 to 3.30. More info here.
Holiday hunger sessions at our Wellspring Settlement Community Garden will be running on Thursday 4th and 18th August and Thursday 1st September from 1.30 to 3.30. More info here.
STH sessions for care settings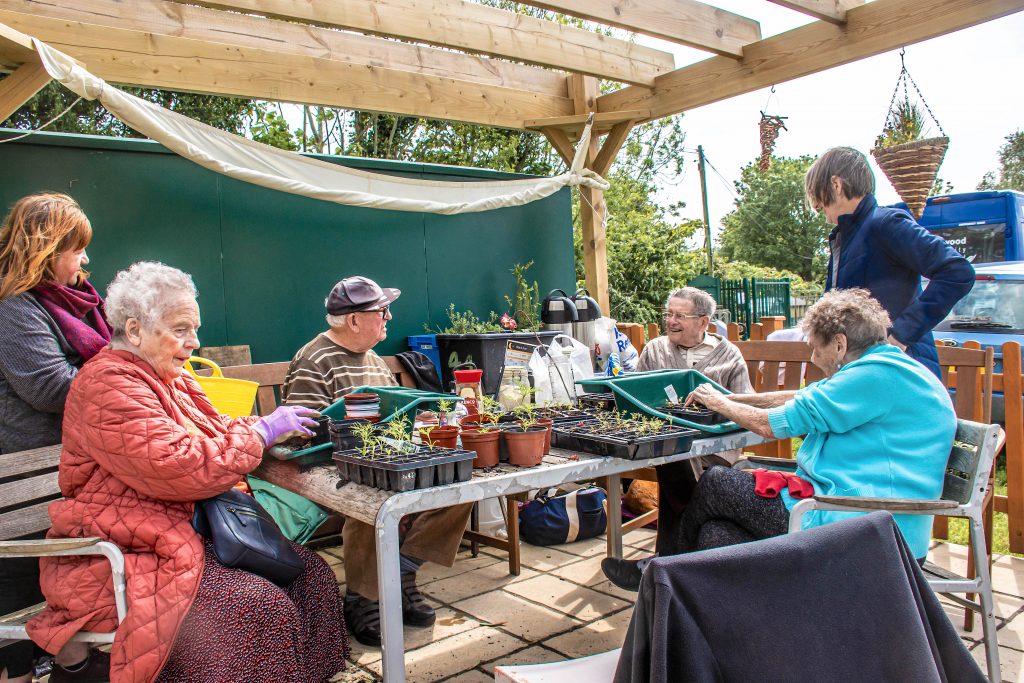 Helping you to set up community and dementia-friendly gardening
Alive can also support you to set up and run a community garden or gardening sessions at your care setting or community centre.
Our experienced facilitators can help you plan your garden and facilitate activities for your participants throughout the year.

Support our community Gardening
There are many ways you could support Alive's community gardening and STH work.
To find out more head to our Supporting Community Gardening page.
Our gardening and green craft sessions simply would not be the success they are without the support of our amazing volunteers. For information on how to join the team please see our volunteering opportunities page or contact our volunteer coordinator Nadja at volunteer@aliveactivities.org.
The community gardens team send out an occasional newsletter. If you'd like to be added to the mailing list, please sign up here.

For any further information about Community Gardening, or to talk to Alive about running a community garden at your care setting, please contact our Community Gardening Team at communitygardening@aliveactivities.org or call us on 07379498764.