When Alan first arrived at his new care home he was very unwell and depressed. In their assessment, staff said they didn't think he would be with them for long, and that his time there would be end of life care.
The care home's Manager was troubled by Alan's situation and knew intervention was crucial. As a forward thinking care home, they had agreed to be a part of the Alive iPals project and decided that Alan would benefit from getting involved. iPals is an intergenerational project bringing together younger and older people through the shared use of technology.
The care home was linked with year 5 children from St Stephen's Junior School. During visits, each child is paired with an older person, and they use iPads to explore each other's hobbies and interest. Not only does the project provide a rare chance for the residents to mix with younger people, it also provides access to learning – which is important for anyone at any age.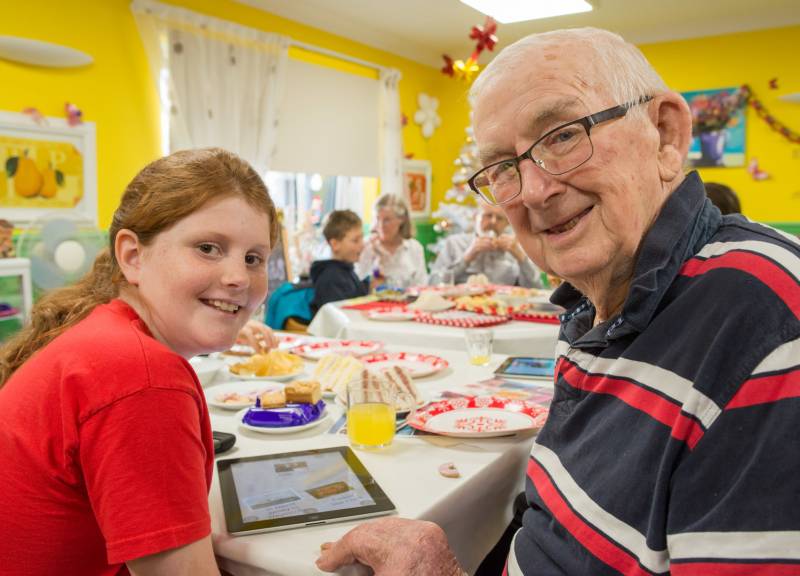 A new lease of life
To meet Alan today, you wouldn't recognise him. Since his involvement in the project, he is a new man. Staff described him as having a new lease of life. Being a part of the iPals project has given Alan confidence and a sense of purpose. With a more focused and upbeat attitude, Alan is now writing and running the home's magazine! It's kept him busy on a daily basis, and has provided him with a full-time job – which he loves! It's also raised Alan's profile in the care home, he's the iPals expert. The project has encouraged conversation in the home and is inspiring others; people are seeing his success and thinking "I can do it too".
Lesley told us "if you see pictures of when he came in here, he was emaciated, he was down, grumpy, he had every ailment. He was just down in the dumps really. His daughter told us 'he was going downhill, so fast' so to see him now, from there, you almost want to put it in the newspaper really! iPals has given that sense of purpose. He now goes out on this own and does everything for himself".
A lasting difference
The link between the care home and the school is now so strong, that the children and older people still visit each other, even though the project is over. This is exactly the outcome we hope for with our intergenerational projects, we create links that grow and blossom. We bring the generations together, instil a sense of purpose and help to ensure that lasting bonds are created within our communities. Bonds that mean the world, to people like Alan.
Alive has an extensive community engagement program. Click here to find out more about our work or contact info@aliveactivities.org to get involved.