Marcus and Millie met through our Making Pals community engagement project. Marcus is one of the teenagers from Young Bristol, who we linked up with Millie and other residents from Bishopsmead Lodge Care Home.
The residents and teenagers have spent the last six months getting to know each other through our project. Their latest meet up saw Marcus, Millie and the rest of the group getting into the festive spirit by making Christmas decorations together. The teenagers and older people had a brilliant day reaffirming friendships and having fun being creative.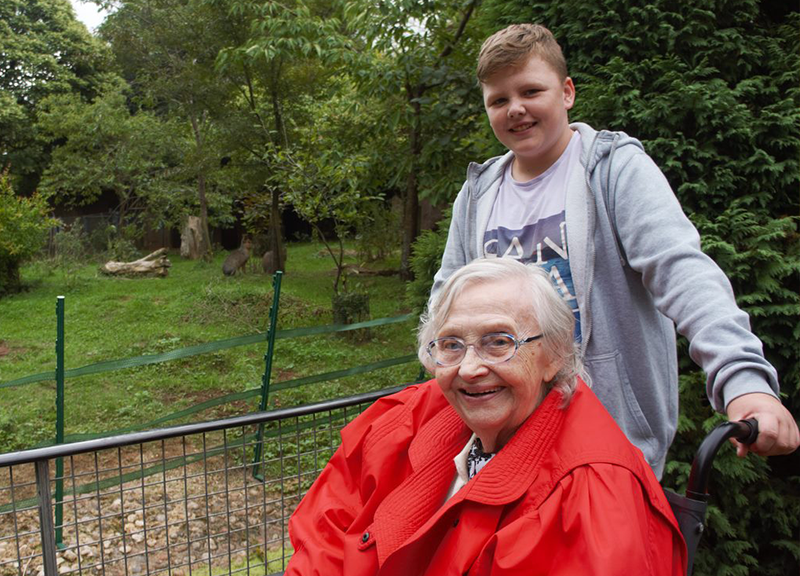 Regular meet-ups
The Christmas visit was the fifth meet up for the group who have become close after spending summer days together on trips to local landmarks- including a trip discovering the animals at Bristol zoo and fish and chips on a wet and windy Weston-super-Mare pier.
As more older people find themselves needing to go into care, we're working to make sure they are valued, appreciated by and connected to their community. It's been emotional for the care staff who have witnessed the impact our Making Pals project has had on their residents: "The biggest thing to come out of this is that the old and the young are one. There is no difference between them. These kids aren't looking at them and thinking 'oh look they can't walk' or 'they've got no legs' they are just looking at them as human beings, and everyone's having fun.'

Lasting friendships
Over the past six months, the younger and older people have thoroughly enjoyed getting to know each other, an opportunity that Alive and Young Bristol are working together to make a permanent fixture. This is looking extremely hopeful as the project has already taken on a life of its own, with many of the teenagers now visiting residents under their own steam. Marcus and Millie, whose age gap spans over 70 years, have struck up a special friendship. Marcus now visits Millie regularly in the care home and volunteers for their activities team to help light up the days of the older people living there.
We couldn't have hoped for a more perfect outcome from this project.

Alive has an extensive community engagement program. Click here to find out more about our work or contact info@aliveactivities.org to get involved.