In August Alive Activities received funding from The National Lottery Communities Fund, the Department of Sport, Media and Culture and the Dunhill Medical trust to run an intergenerational social action project across East and South Bristol as part of Care Home Friends and Neighbours: Intergenerational Linking.
The project works to link up older people living in care homes with younger people between the ages of 5 and 14. A key focus of this work will be to promote social action across the generations, empowering both younger and older people to have a positive impact on their environment and the community.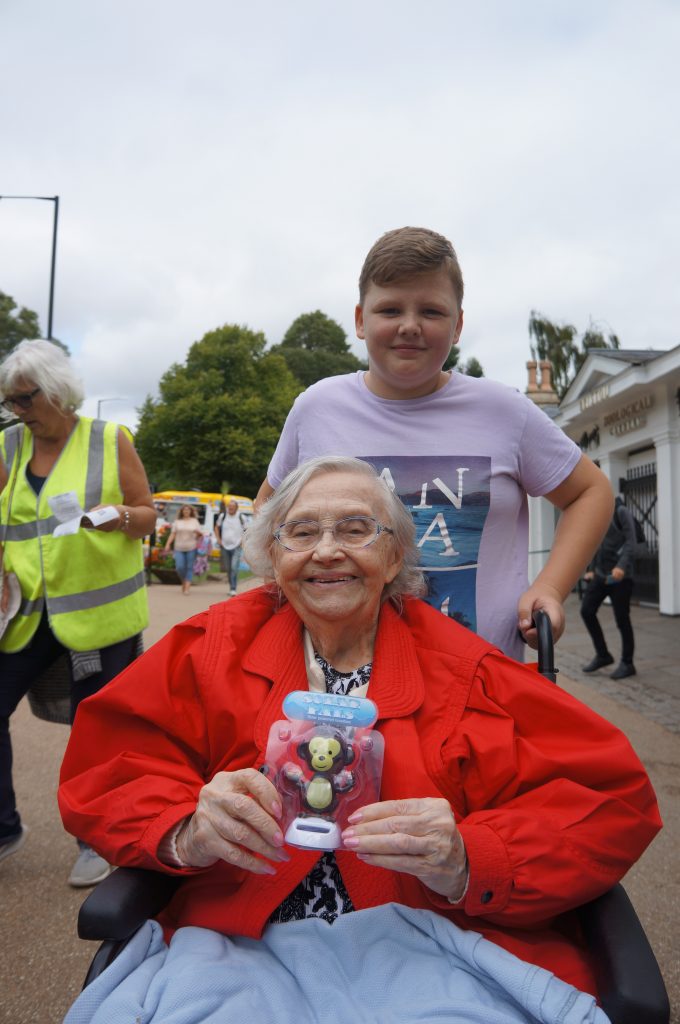 How to get involved
Each group or volunteer wanting to be involved will be linked up with a local care home. Alive will help care home residents and young people exchange stories and share experiences of lockdown. The project will help forge new connections by inviting participants to perform 'good turns' for each other and boost each other's wellbeing.
With Christmas fast approaching and a second lockdown in full swing our focus will be on maintaining community connections and solidarity despite the challenges of covid-19.
Below are of activities that care homes, youth groups, schools, families and volunteers have been invited to participate in as part of One Good Turn.
If you are interested in participating in any aspect of the project as a group, home or individual please contact Harriet on harriet@aliveactivities.org.
How can you help?
Wellbeing boxes Volunteers and participants can make up wellbeing boxes, wrapped up and decorated. Boxes might include paintings, treasure found out on a walk, hand cream, letters from younger people, lavender bags, messages of support, seed to plant, poetry books, sea shells, friendship bracelets etc. Wellbeing boxes will then be given to residents who do not have many visitors or family to deliver Christmas presents.
Jar of Joy Participants can fill a jam jar of joy for others in their community. This involves writing message of hope and support for others to show them they are being thought about during this difficult time. It can include pictures, messages, seeds to plant, puzzles, pictures of the participant (drawn or photographed), sea shells, objects from nature etc. These will then be passed on from one generation to another in a joy jar exchange.
Carol concerts Families and individuals are invited to walk along to a carehome carpark and sing a song or two for care home residents. Alternatively please record yourselves, friends and family singing a carol and send it to project staff at Alive Activities (harriet@aliveactivities.org) these will be shared with older people who may not be able to get out at present or receive visitors due to restrictions.
Record a special song or a poem Young people are invited to record themselves and their friends singing a song requested by a resident. It may be a first dance wedding song or a significant song from their youth. Song requests can be passed on to project staff who will hold a list of songs. If you wish to make a request or record a song please contact Harriet.

Read a book or a poem to a younger child or older participant: If you are at a care home whereby the residents are interested in performing a 'good turn' we can pair older people up with a younger person to listen to an audiobook together, read a story or watch a short film. iPads can be provided for this activity and Alive will help to organise along with families and/or staff. Alternatively you may wish to read a short storm, poem or chapter of a book to an older person who may be having trouble with their sight.
Create a hamper for a foodbank This is for residents who want to volunteer themselves or younger volunteers or groups who may want to help with delivery. Shoeboxes, hampers, materials and food can always be provided by Alive if additional budget is needed. Care home residents can then decorate and compile the boxes/ hampers them themselves. They may want to write a personal message for those receiving the food. A Christmas message perhaps or a message of hope and support. Young volunteers will then arrive to collect the packages from staff and deliver them to foodbanks by foot or by bike. Volunteers will take photos along their delivery journey to share with the older people to let them know their package has arrived.
Become a pen pal or offer a regular befriending phone call Throughout lockdown many older people living in care have not had the opportunities to go out into their community or receive visitors. Having to shield has resulted in some older people feeling 'set apart' or separate from their wider community. This can be a lonely experience, despite the huge efforts of staff many participants would love to receive letters and phone calls from volunteers. Making a new connection and hearing about the experience of others, especially of different ages and backgrounds makes for an interesting activity. If you know of an older person who would like to take part in a befriending call or penpal scheme or would like to volunteer yourself please contact us and we will arrange the first steps.
Knit for another This is an opportunity for both residents who are interested in volunteering or volunteers who have a knack for knitting. Residents in care homes may want to 'knit for another' as a way of contributing to their community. There are opportunities to knit blankets and hats for the homeless or to donate to foodbacks and local charities. Alternatively if you are a young volunteer between the ages of 5-14 and would like to knit a brightly coloured scarf, hat, purse or jumper for an older person we can match you up with someone who might not otherwise receive many gifts or visitors.
Up Our Street Residents may not be able to go out much at present but younger people can. Volunteers can take pictures and short films of a particular journey or place that are significant to care home residents who cannot get out. For example: a resident may of frequented a particular park, lived on a particular street or spent time working in a set part of Bristol. Residents can request that young volunteers visit the area, do a set journey, and take photos and films of a particular street. Young people can then report back to the older person about what they saw and discuss why the area is significant to the resident themselves. A shared journey. Technology and support arranging this can be provided by Alive Activities. Please contact Harriet if you are interested.
Record a message of hope: Older people have lived a long and full life and have wisdom and life experience that may prove valuable or interesting for younger generations. Some older people may of lived through the war or other challenging periods of history. 2020 has been a turbulent and challenging year in many ways. Perhaps the older people you know would want to share a Christmas message or message or support and joy for their communities. This can be done in a letter or filmed or recorded. We will then play this message to younger people and their families who will have the option to reply. We want those living in care to be empowered and acknowledged. Hearing their opinions and messages is important and empowering for both the residents involved and those receiving their words.
Draw the view from here How about an art exchange? To start up a connection with someone of a different age and background to you why not paint a picture or tell a story to someone about your day? You may want to paint 'the view from here.' This could be the view from your window, the view of a shared lounge or garden, the view of a favourite friend, family member or member of staff. Alongside the drawing young volunteers and residents could include a short message or list 10 things about themselves, their lives and their interests. Alive will then help 'exchange' the art or stories and pair up older and younger participants. You could write a story together exchanging a few pages at a time. Whatever your idea we'd love to hear about it and help. Zoom meetings and sharing meetings to discuss the art, stories or letters can also be arranged if requested. Contact us to find out more.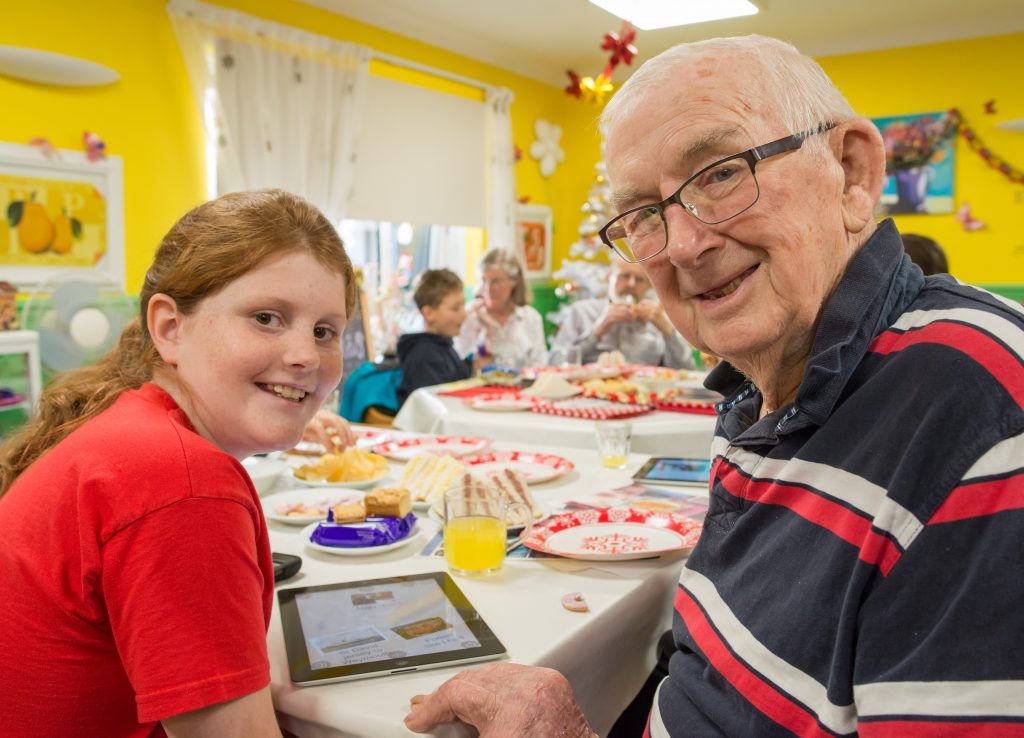 One Good Turn 2021 and beyond
Once Christmas has passed and we've brushed off mince pie crumbs and rebooted dusty laptops, we will aim to begin 2021 with some intergenerational resolutions. New participants and those already involved will be invited to pair together across the generations to pledge their 'one good turns' for 2021. Lockdown has shown us the importance of connection and solidarity throughout our communities so our new year activities will involve giving something back to our communities and neighbours and collaborative campaigning for a better world.
Participants can drop in and out of this project either performing one off good turns or random acts of kindness. Alternatively, they can choose to be involved for longer, in which case they will become a part of the core intergeneration team. Working together across the generations to perform acts of positivity locally and further afield.
These are just some examples of the activities, ideas and 'good turns' that will be taking place over the next 18 months. We would love you – volunteers, staff, residents and families – to come up with your own ideas and 'good turns' based on your interests and ideas. We will then facilitate and foster intergenerational connections between older and younger people across the city. At Alive we believe that a thriving and healthy community includes all members of society regardless of background or age. We want to focus on the power of participants to bring joy to one another and collaborate across the generations to have a positive impact on wellbeing of both the individual and the community as a whole.