To commemorate World Alzheimer's Day and this year's theme of 'Know Dementia' and the focus on post-diagnosis support, we wanted to highlight the work of our Dementia Meeting Centres, set up across Bristol, North Somerset and South Gloucestershire, that are embodying this theme through their sessions.
The concept for Meeting Centres was developed in the Netherlands, where it has been successfully running for the past 10 years and in the UK for the past 3 years. We are so proud of the positive work our Meeting Centres are doing for those with dementia, as well as their care partners in their respective local community.
Highlights from our Bristol Meeting Centre
In honour of World Alzheimer's Day, Bristol Meeting Centre's themes this month have been 'living healthy and active lives' and 'contributing to our community'. Members and care partners have been helping to shape the practice and assisting staff to plan and deliver the sessions at the Meeting Centre.
The activities have been planned to fit around the themes and have included 'getting out and about', with visits to Aerospace Bristol to see The Concorde Hangar, where some of the members have worked, and gentle strolls around the garden and beautiful grounds at Westbury Fields, where the Meeting Centre sessions are held.
There has been a strong focus on keeping minds active and members have recently enjoyed painting, plaque-making and many other activities that support cognition and wellbeing.
To support the local community, the Meeting Centre provided food for the St Monica Trust Harvest Festival and also received some lovely fresh produce grown at our Alive Dementia-friendly Allotment. Any surplus has been donated to Bristol Food Banks.
The impact of the sessions at Bristol Meeting Centre has been a noticeably positive one, in just a few months. This is reflected in the members telling staff that they want to contribute to their communities for as long as possible. Enjoying activities where there are opportunities to help others has improved their self-esteem and provided a positive self-image.
Highlights from our North Somerset Meeting Centre in Nailsea
Our 3 North Somerset Meeting Centres have been contributing towards improving the lives of their members in a similarly positive manner, by helping bring a renewed sense of meaning post-diagnosis.
We would like to highlight a lovely positive story from one of our North Somerset Meeting Centres, Nailsea Meeting Centre, showcasing the huge impact the Meeting Centre has made on the lives of a member and her care partner, following her dementia diagnosis.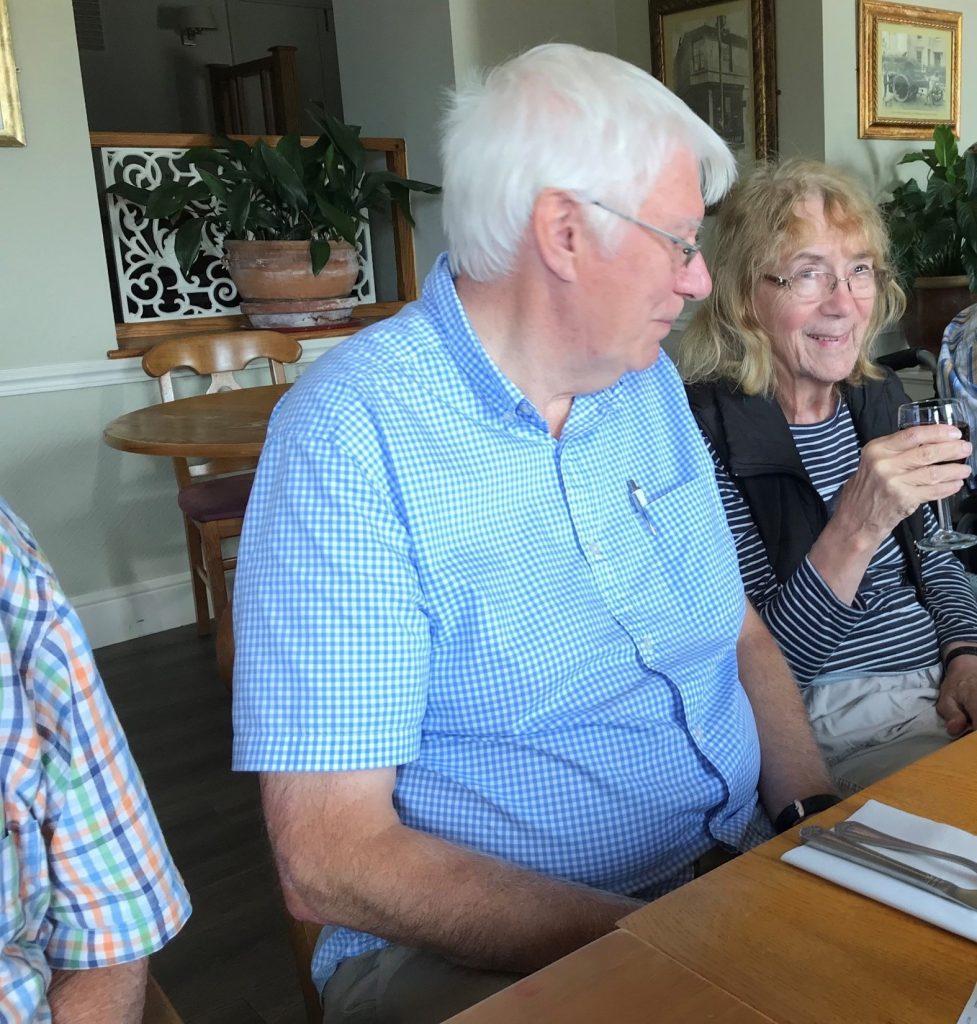 The member and her care partner husband began attending the Meeting Centre when it opened in March of 2022 and have been attending regular sessions twice a week, ever since.
J, the member's care partner, was facing a difficult crossroads, prior to them joining the Meeting Centre. J was initially faced with the possibility of having to put his wife into a residential care home and the stress of her dementia diagnosis, the difficulties faced by covid and being her sole carer and family member was taking its toll on him and leaving him feeling quite alone.
In a search for answers and support, J and his wife joined the Meeting Centre and have received that, and more.
Through the support given to him both formally and informally within the Meeting Centre, he is no longer considering that the need for residential care for his wife, is just round the corner. He feels that the informed support he receives from the trained staff within the Meeting Centre and the peer support he receives through talking with other carers whilst staff and volunteers engage his loved one, has had a significant impact on improving their lives.
These sessions provide both of them with 10 hours a week of meaningful activity and support. Through encouragement from the Meeting Centre team and talking to a fellow carer, he received tips on how his wife and him could go on holiday, an avenue that he felt was closed to them due impact of dementia on their lives. They then travelled to Spain and had an amazing time and are planning on going again next year.
The lovely couple have felt a renewed sense of regaining their old life. They are back enjoying activities they used to pre-diagnosis, such as meals out, going to shows and visiting the cinema, to name a few. In order to ensure they are able to enjoy these activities without worry, the Meeting Centre team suggested that the lady member wears a sunflower lanyard with a help card, which helps identify that she is living with an invisible disability. This suggestion has helped them to feel confident to begin enjoying life again by engaging in the activities they used to enjoy together before diagnosis.
J shared that, the 5 hours that they attend the Meeting Centre means that he "doesn't have to do the 'heavy lifting' of being the carer alone", and this has made such a profound impact on his life as a carer.
South Gloucestershire Meeting Centre
We are pleased to announce that we have opened our South Gloucestershire Meeting Centre in Bradley Stoke this September. The Meeting Centre is welcoming new members. To book a taster session, please contact the team via email at sglosmeetingcentre@aliveactivities.org or ring them on 07377 197 893.
#WorldAlzheimersDay2022